The United States has historically been a land of boundless opportunities for foreigners trying to establish themselves in a liberal, inclusive and prosperous economy. The country continues to attract the best and brightest from across the world to add to the diverse workforce. Foreign workers who have the required skills, experience, training and job profile can pursue a broad range of options for how to get jobs in USA.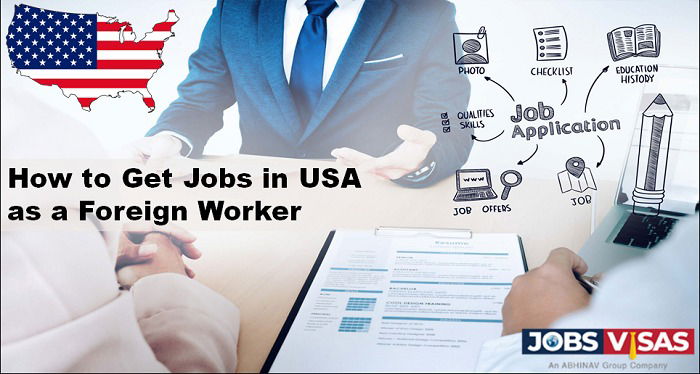 A job seeker can only pursue career options in USA if they possess one of the following:
Permanent resident card (Green card)
Employment Authorization Document (work permit)
Employment-related visa that permits the holder to work for a specific employer in the United States.
In order to obtain any of these documents, a job seeker must pursue the relevant work visa USA pathway. There are several types of work visas that allow aspirants to actively pursue jobs in the United States. Each visa option has a unique set of conditions, eligibility requirements, application procedures, and time limits. In order to work in USA, a qualified person can enter the country as a:
Temporary foreign worker
Permanent foreign worker
Temporary visitor for business
Foreign student or exchange visitor (under certain circumstances)
A US employer is required to verify that the prospective employee has been authorized to work in the country under one of the afore-mentioned categories. Thus, the first step towards accessing
overseas jobs
in USA is to apply for the relevant visa pathway to U.S. Citizenship and Immigration Services, and obtain the mandatory authorization.
Temporary foreign workers and permanent immigrants in the USA are entitled to several right and protections. They cannot be denied the visa that they have successfully been approved for, or punished for exercising their rights under U.S. laws.
However, those who violate the terms of their visa could have the visa revoked; resulting in deportation, arrest, or denial of re-entry into the United States. It is necessary to note that a person cannot be brought to the United States in an unlawful manner, such as for human trafficking.
To explore options for
how to get jobs in USA
, foreign workers can avail the services of a reliable job consultancy that connects them to international employers and recruiters. Receiving proper guidance and support helps the job seeker to identify the location where they can find gainful employment opportunities, and pursue such opportunities through an authentic intermediary.